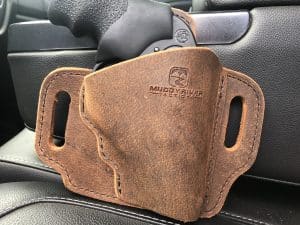 If you look back to the first holsters made, they all started off as leather and for good reason. OWB Leather Holster have a great look as well as being durable enough to stand up to a lifetime of use.  Over the years holster making has changed a lot in some aspects.  With the introduction and popularity of kydex holsters, but leather has never been more popular than it is today!  However, the amount of leather workers is going down as the "old timers" are slowly passing away.  We have a long tradition in leather work and are one of the few that are passing the trade along to the next generation.
Since the release of our Soft Leather IWB Holsters, we knew the outside the waistband leather holster would have to be next!  Well we are proud to announce that our OWB Leather Holster is now available at www.MuddyRiverTactical.com.  These holsters will be made with full grain water buffalo leather.  Water Buffalo leather is the leather you all have come to love in our Soft Leather, as well as our Tuckable Leather IWB Holsters.
These Outside the Waistband Leather Holsters have a 10 degree cant angle built into the belt loop angle.  This gives it enough cant to be comfortable and have a super smooth draw!  The back piece of the holster is double thick for added durability and security for a lifetime of hard use.  Like all our other holsters they will have our NO B.S. Lifetime Warranty and are made right here in the U.S.A.
We have been making holsters for a very long time here at Muddy River Tactical.  However,  I can honestly tell you this is the most excited I have ever been about releasing a new holster!  We have put in months of design and testing to come up with the final design.  This holster is one that has far exceeded our wildest dreams.  If you are a fan of our products we know you will absolutely love this holster as well!