If you're looking for a concealed carry, duty, range or competition holster, the alternatives are unlimited. Leather has controlled the holster market for years now and for excellent reasons. Numerous top quality leather holsters will last a lifetime and more. There's an entire brand-new type of holsters out there that are making leather holsters gradually fade into the background. Custom Kydex Holsters are specifically molded to your firearm to give you the best fit imaginable!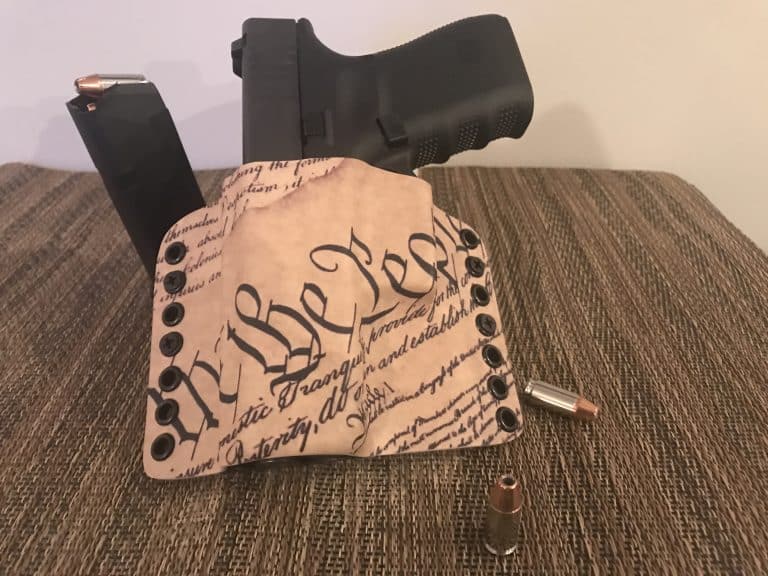 I'm sure you're all familiar with the massive flood of Kydex holsters striking the marketplace recently. Some of these may be up for dispute, but the list of benefits for Kydex over Leather goes on and on.
Click here to check out our Custom IWB Kydex Holsters!
Click here to check out our Custom IWB Kydex Holsters!
Here's a list of benefits of Custom Kydex Holsters.
KYDEX IS THIN, STRONG AND LIGHT
Kydex holsters are produced with material varying in density from 0.060″ to 0.125″. The Kydex holster that is on the thinner side of the spectrum will still maintain its shape after using it every day for months on end. It doesn't matter if you leave it in the sun, or set it out in the snow, or load it in a range bag in addition to large ammunition cans and other products.
KYDEX IS WATERPROOF, WASHABLE, AND WILL NEVER ROT
Leather has the same qualities, but it will require appropriate upkeep and treatment every once in a while to keep those conditions. If a leather holster is left neglected, it will gradually fade and lose shape, maintain dirt and dust and wear the surface on the weapon quicker. Kydex will have those qualities permanently and need hardly any upkeep. Maintenance for Kydex holsters is cleaning with soap and water, drying it, cleaning the inside with silicone fabric, and examining hardware on belt loops to ensure nothing is loose. If your Kydex holster is left neglected, it will only be dirty and wear the surface on the weapon much faster.
RETENTION
The retention of many Kydex holsters is created by friction on a low area on the weapon and can be isolated to a little space to minimize the wear in time. Many leather holsters utilize a snap or strap to guarantee the gun remains in location, which will need more training and practice to master.
DRAW AND REHOLSTERING
Kydex can be fine-tuned and formed by hand to make drawing and reholstering much faster, simpler and more consistent. Lots of leather holsters unless appropriately preserved will lose tightness and shape in time. The entry point will close and pinch when the weapon is not holstered, typically needing two hands to re-holster the gun.
SWEAT AND DIRT CAN KILL YOUR GUN'S FINISH
If you wear a concealed carry every day wherever allowed, then you're aware that the weapon and holster will deal with dust, sweat, dead skin and skin oil. An excellent quality leather holster will take this type of abuse no issue, as long as it's routinely dealt with and preserved.
Kydex is a no-brainer option to all those problems. Sweat will not permeate the Kydex, dirt is rinsed with soap, water, and a sponge and the wear location will never spread out.
CONVENIENCE
There may be lots of claims that leather is far comfier than Kydex, but the claims for the opposition are beginning to stack up quick. Kydex holsters, if produced with care and attention, can be compact and a lot more comfy than their leather equivalent. Your carry information (position on the waist, angle and waist size, and so on) can be tuned into your holster custom-making it to your requirements. The bend of the Kydex holster can be set to match your waist, in the precise location where you choose to carry.
WHY CHOOSE CUSTOM KYDEX HOLSTERS?
At Muddy River Tactical, we hand-make our custom Kydex holsters with a .080 density Kydex. This density level permits more security along with toughness. It is also rugged, has an outstanding retention ability, as well as develops excellent definition. We have made our custom-made Kydex holsters with the help of police in addition to military workers.
We provide IWB or OWB holsters with choices to customize your new Kydex holster, including color in addition to different styles. Our IWB holsters likewise have an adjustable cant and a complete sweat guard. Having a versatile cant allows you to bring your weapon in various positions with only one holster. An adjustable cant is an advantage for individuals. It implies fewer holsters you need to buy, yet still offers you various alternatives for carrying position. A complete sweat guard is an extra alternative that we provide on all IWB custom-made Kydex holsters from Muddy River Tactical. Having a sweat guard is suggested because it puts a defense in between your skin and the gun slide. This provides you with extra comfort while carrying, even for longer carry times. The sweat guard makes drawing and re-holstering your weapon smooth with no pinching or problems with lining up the gun to re-holster.
Another option we supply on our custom Kydex holsters is having your IWB holster tuckable. A tuckable holster is a considerable advantage for carriers given that many have IWB holster to make sure that they can conceal carry. The holster being tuckable makes it so it can rest comfortably within your waistband, concealing your weapon. A tuckable holster is more light-weight compared to a non-tuckable making it a lot comfier for the individual carrying.
Muddy River Tactical Now offers a broader variety of Kydex colors and printed Kydex. Want a holster with the American Flag? We got it. How about a "We The People" Kydex Holster. We got that also. Both inside the waistband and outside the waistband printed Kydex holsters are now available.
ORDER YOUR CUSTOM KYDEX HOLSTER NOW!